Basmati Rice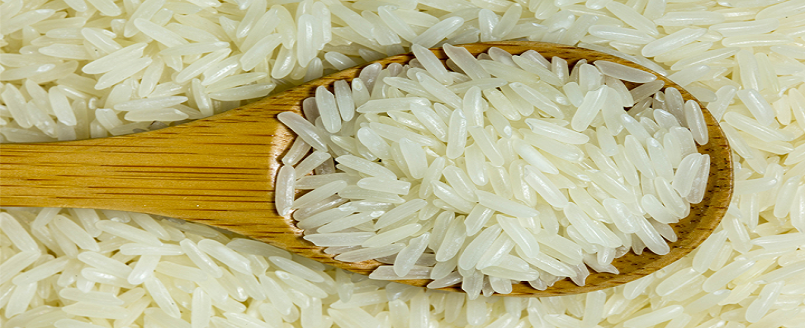 Swaraaj - 100% Premium Basmati Rice
Swaraaj 100% Basmati rice is long grained, aromatic rice that has a distinct & superior flavor and is grown in the specific geographical area in the foothills of Himalayas in the Indian sub continent.
Basmati Rice Available: 1121 Basmati, Pusa, Indian Super, Sugandha, Kasturi, Mahi, Steam Basmati/Golden Sella Basmati/White
Non Basmati Rice Availaible: PR 14, PR11, PR 106, IR 64
Specifications:
Color: White
Moisture: 13% max
Damaged Kernels: 2% max
Crop Year: Current Year
Free from: Infestation, fungus, dyes and coloring chemicals
Red and Red Streaked: 3% Max
Broken Ratio: 5% Max
Sorted: 100%
Yellow Kernels: 2% Max
Chalky Grain: 2%
Milling Degree: Well milled and single or double polished as per needs
Packing & Shipment Specifications
Inspection: SGS (or) any other agency as per your requirement for Weight and Quality.
Packing: Standard in 20 Kg, 25 Kg or 50 Kg new PP Bags
Quantity: 20 feet Container with load ability of 24 Tons
Port of Loading: Mundra, JNPT,Chennai, India
Port of Discharge: To Any Port as per requirements
Shipment Terms: FOB/CFR/CIF
Mode of Payment: TT, LC
Delivery to Port of Discharge: 10-15 days from the date of receipt of Confirmed Payment Instrument (L/C documents or Advance payment)
We are supplying all the varieties of traditional Basmati, 1121 ,Pusa Basmati, Brown Rice, Sharbati Basmati in all it's varities – Raw, Milled, Steamed/Golden sella/White as well as Non- Basmati varieties of PR 14, PR11, PR 106, IR 64 etc.
Basmati rice has a long slender shape that almost doubles itself in length upon cooking and has a fine, smooth and silky texture. The combination of factors like long grained, superior aroma, delicate curvature, distinct flavor and geographical advantages has made Indian Basmati draw the highest premium among all rice varieties grown in the World. Basmati is to rice what Holy grail is to Christianity.
With professional rice processing equipments from around the world all procedures from Raw grain cleaning, Sifting, De-stoning, Paddy separating with both horizontal and vertical milling are all strictly observed at our state of art manufacturing unit to ensure special care is being taken to make Swaraaj 100% premium Basmati rice,that is aged perfectly well before it's packed and shipped. Unlike an ordinary long grain rice, Basmati is distinct in every way & tastes like no other rice on earth.
Basmati is a gluten free supergrain that is low in fat and has all 8 essential amino acids and helps in healthier re-distribution of fat through out the body. According to Ayurveda the foods that act upon the body system by releasing their energy slowly leads to a more energy balance ontridoshas system. Basmati rice is a food that does exactly that as it has a low Glycemic Index. Hence, it's a superfood as per Indian science of Ayurveda too.
Packaging: 5/10/25/50Kgs