Swaraaj Atta - Whole Wheat Flour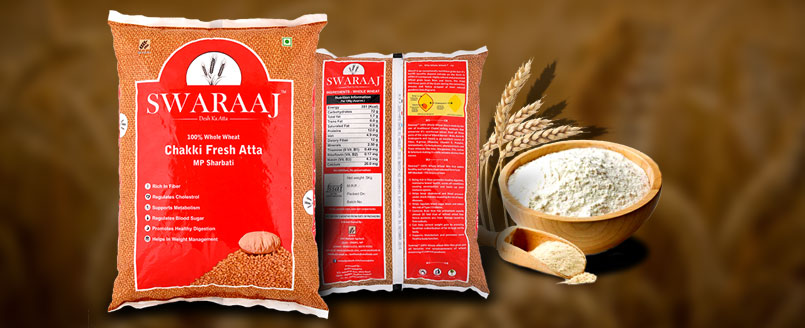 100% Whole Wheat Flour
Swaraaj Chakki Atta - What's So different ?
Wheat is an exceptionally nutritious grain but it's health benefits depend entirely on the form in which it's consumed. Highly refined and processed wheat grain looses Bran and Germ (See Diagram) - the most nutritious parts of the grain during extraction process and hence stripped of their natural goodness.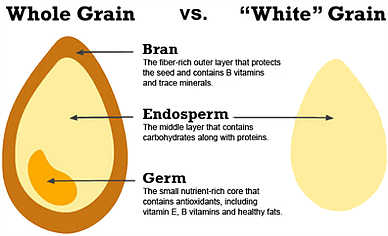 Swaraaj™ 100% Whole Wheat Sharbati Atta is made by the use of traditional Chakki milling methods that preserves it's nutritional values from all three parts of the original Wheat Kernal – Bran, Germ & Endosperm and hence is an excellent source of Fiber, B-group Vitamins, Vitamin E, Proteins, Antioxidants, Carbohydrates, phytonutrients and Trace minerals like Iron, Manganese, Zinc, Iodine & Selenium making it a daily valuable dietary food source.
Swaraaj is made from MP Sharbati Wheat – The Grains of Gold. Literally, as Sharbati produced in Sehoreregion of Madhya Pradesh is the most premium among all the wheat grain varieties grown in India and it's seeds have a gold like texture. Atta made from Sharbati has sweet taste (hence the name Sharbati) and makes Rotis that are healthier, softer and tastier.
Swaraaj Sharbati atta makes rotis with such freshness in every bite that none other can replace. Let Swaraaj™ farm fresh atta treat you with the real Grains of Gold- Sharbati.
Swaraaj™ 100% Whole Wheat Atta makes Soft, Healthy and Tasty Rotis that :
Being rich in fiber promotes healthy digestion, maintains bowel health, wards off conditions causing constipation and beefs up your immune system.
Helps keep cholesterol and blood pressure under check thereby lowering the risk of heart diseases.
Helps regulate blood sugar levels and reduce the risk of Type 2 Diabetes.
Contains Bran that has antioxidant capacity almost 20 fold that of refined wheat flour hence protects you from damage caused by free radicals.
Can help control weight gain by promoting healthier redistribution of fat through out the body.
Supports Metabolism and promotes overall healthy body function.
Swaraaj™ 100% Whole Wheat Chakki Atta thus gives you all benefits from wholesomeness of wheat preserving it's natural goodness.